Sioux Technologies
Challenging high-tech projects
Sioux is a global technology partner that supports or acts as a R&D department for high-tech companies. Working at Sioux, means working together with a team of driven, smart and fun colleagues on high-tech solutions that make a difference. You will contribute to the development and engineering of complex products, often on the verge of what is technologically possible.
Working on your development
Our employees are our strength. Based on that belief, we find it very important to guide you optimally in your development. At Sioux we will keep you focused; we will constantly challenge you to learn and take the next steps. Therefore, we work with a generous yearly personal development budget of € 6.000 to keep your technological
knowledge up-to-date and work on your personal skills.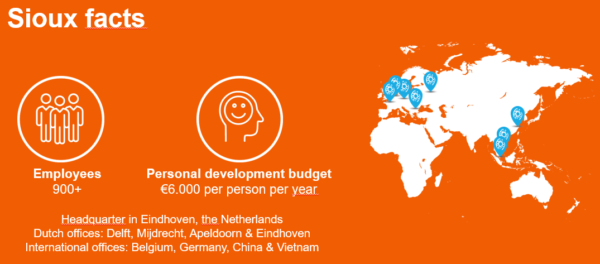 Creating meaningful innovations together
Sioux wants to contribute to a safe, healthy, smart, more pleasant and sustainable world through technological innovation. We aim for growth for our employees, our company and our customers. We create success and add value by learning, sharing, interacting, having fun and working on innovative solutions based on transparency and trust.
Sioux culture
At Sioux, we find it important to have fun together. We organize lots of activities for our employees: from social gatherings (including partners and kids) to afternoon drinks and innovation pizza sessions. Sioux Labs, our event space, is always open to meet and lunch with colleagues, enjoy a workout together or organize an event.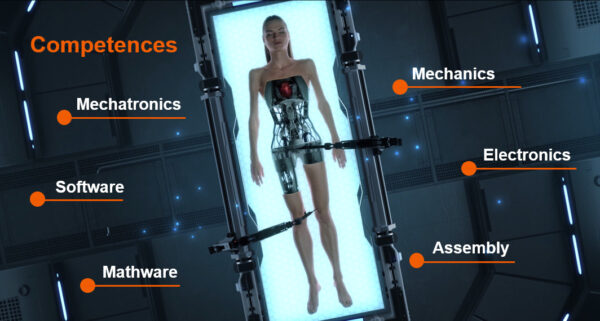 Software: Build complex, intelligent products and systems with system control software or application software.
  Mathware: Be an expert in the field of mathematical technology for solving numerical problems.
  Mechatronics: Develop high-tech mechatronics from design and prototyping to assembly in-house.
  Mechanics: Development and engineering in the field of precision mechanics
  Electronics: Create innovative electronic systems for state-of-the-art high-tech modules, systems and machines.
  Assembly: Supply chain management and assembly of our high-tech systems.
 Watch our corporate movies >