Working at TJIP
We are TJIP, The Platform Engineers from Delft. With our international team of experts, we realise Business Platforms for clients who want to stand out. We do this by using modern technology and far-reaching expertise of the market.
What does this mean?
Building Software Platforms you can be proud of.
Keep developing your skills set and knowledge.
Be a sounding board for clients about products and letting your creativity run free.
Work on large projects in an informal manner.
Put your own stamp on innovation at organisations such as Blackrock, Eurocross, a.s.r, and Aegon.
TJIP offers more than a career in IT
TJIP believes that people are at the heart of the matter. We offer a comfortable work environment where work and relaxation meet. You will have every opportunity to develop and get the best out of yourself in addition. All this at an attractive office with the best resources and great colleagues. Working in small teams, you can put your stamp on software for large clients. Naturally, TJIP offers a competitive employment benefits package, an unique opportunity for your career.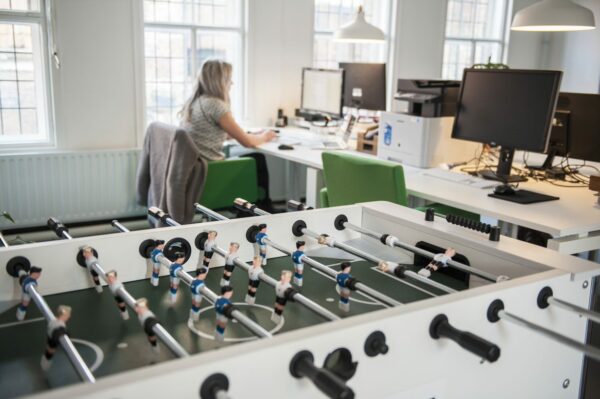 Are we looking for you?
We are looking for creative minds with technical and innovative skills who can transform the clients' wishes into smart software solutions. With your colleagues, you will code the best enterprise applications.
You like to collaborate with intelligent clients and you develop great software solutions in an original and undaunted manner. At TJIP, you can reveal your creativity in designing and the development of professional applications of the highest quality.
You will have impact on innovation at large clients.
TJIP & Delft
TJIP is located at the Delft Tech-Park, a place for innovative and knowledge-intensive organizations. We are surrounded by startups, other software developers, and various FinTech companies. Our office is easily accessible. Another great advantage of our location is that we maintain close ties with the TU Delft. We finance, for example, various research projects, regularly sponsor events, and host 'in-house' days.
We would like to invite you to our impressive 'ecological' headquarters in Delft!
Contact
Feel free to drop by for a cup of coffee.
015 – 789 0 789 | 06-24 54 93 79 (WhatsApp) | hr@tjip.com