Prof. dr. dr.h.c. L.J.M. Rothkrantz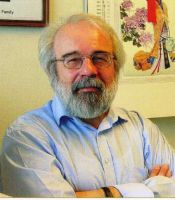 Prof. dr.h.c. L.J.M. Rothkrantz (Leonard Johannes Mathias)
Born: November 28, 1946 in Kerkrade
Associate Professor at Fac. EWI / Mediamatica. Man-Machine Interaction (MMI).
Léon Rothkrantz was born on November 28, 1946 in Kerkrade. After completing his HBS-B diploma in 1965, he went into military service from 1966-1967. After this he decided to study Mathematics from 1967-1971 at the University of Utrecht. Subsequently, he started as a research assistant at the University of Amsterdam with a PhD research conducted by Prof. Dr. H. Freudenthal, Prof. W. van Est and Prof. Dr. T. Koornwinder. He completed his PhD in 1980. Meanwhile, he worked as a mathematics teacher for the Delft New Teacher Programme. After completing the PhD degree, he was appointed as a study advisor at TU Delft. At the same time he started a second study of Psychology at Leiden.
After completing his Psychology degree, he started working in 1990 at the chairman of Kennis Gestuurde Systemen under the leadership of Prof. Dr. H. Koppelaar and has been appointed as Senior Associate Professor since 2002. In 2008 he was also appointed as part-time professor of Sensory Systems at the SEWACO section under the leadership of Prof. Dr. Ir. F. Absil. From 1 November 2010 he followed Prof. Absil up as section leader SEWACO. He is also employed at the Technical University of Prague.
Leon Rothkrantz is (co-) author of more than 200 scientific publications in Journals, Conference Proceedings and Books. He has received the best paper award several times. He received an honorary medal from the Technical University of Prague and the Military Academy in Brno. Over the past 20 years, he has assisted over 150 MSc students in their thesis research and 15 PhD students in their PhD research.
On January 26, 2016 Professor Rothkrantz received an honorary doctorate from the Prague University of Technology.
Leon Rothkrantz became an honorary member during the Dies in 1985.